Learning German is a high priority for me, but finding the right school wasn't as easy to nail down from afar as I thought it'd be. Just as well. Now that I am here, my map and sense of timing is much better. Can I get there on foot? What U- or S-Bahn station is it on?
The two schools that were at the top of my list are both located in Kreuzberg, a close neighborhood whose outermost borders are easy enough to actually walk to. Still, the schools are quite far from each other.
The one of strongest interest was Babylonia, which Chris' friend, Fanta, had recommended to me because of was "cheap, radical and, however disorganized, worth it." It's location was not the best. The sign for the school pointed into a quiet and frankly creepy courtyard. In my internal monologue, I voted it "Most Likely Place to Get Jumped."
A young Asian man walked by at that point and, seeing my confusion and apprehension, stopped to offer assistance… in perfect English.
"You looking for Babylonia?"
He hadn't been in there himself, but he knew it was at the very back of the courtyard. Go on in.
It didn't get any less creepy. At the end of the courtyard, you turn a couple of corners to reach the glass door of a dark brick building. I climbed the quiet stairs for a couple of floors before seeing another sign for the school. Relieved at least to find it, I walked on in.
…and was enveloped in a cloud of smoke.
Is there a non-smoking sanctuary anywhere in this city?
I wanted to leave immediately, but I was spotted by the attendant, Kelly. She spoke English, and talked with me about the costs, available schedule and the rest. There was actually a class meeting – the very one that I wanted to enroll in, although the students had already met a couple of times.
I sat down in the lounge and watched the class through the glass. What I saw of the teacher's style, I really liked. And the students seemed approachable – a youngish mix of black and brown folks with dreadlocks, piercings and tattoos. I was waffling until they took their mid-class break.
Most of them, including the teacher, reached for their cigarettes and poured right into the small lounge I was in to smoke.
Sigh.
I needed to do some FAMM work and to find a Wi-Fi zone for another Skype conference call. The other location I had read about was pretty close to Babylonia, a sandwich and coffee shop called Café Morena.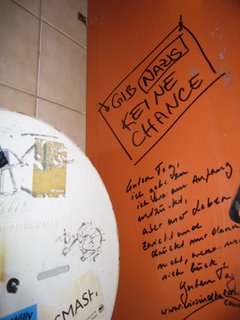 To Sara, I emailed, "I think I found the Berlin version of Busboys…"
The conference call was cancelled, but I stayed there for hours, having coffee and reading through the stack of proposals I brought with me from Washington.
It was pretty dark when I left, but I figured that I had some time to get to the grocery store that Seán had told me about at Ostbanhof station. Grocery stores of the kind we have in the U.S. are *not* the norm in Berlin, and I was tired of the deli sliced meat and cheese that I'd been snacking on. I wanted to cook, not put together another sandwich.
I don't think I've ever been so happy to see a head of broccoli before!
There are two full markets in the basement of Ostbanhof and I shopped at both. Mmmm, schinkenspeck! And a beautiful yellow bell pepper, fresh peas, a bag of brussel sprouts…
Heaven.