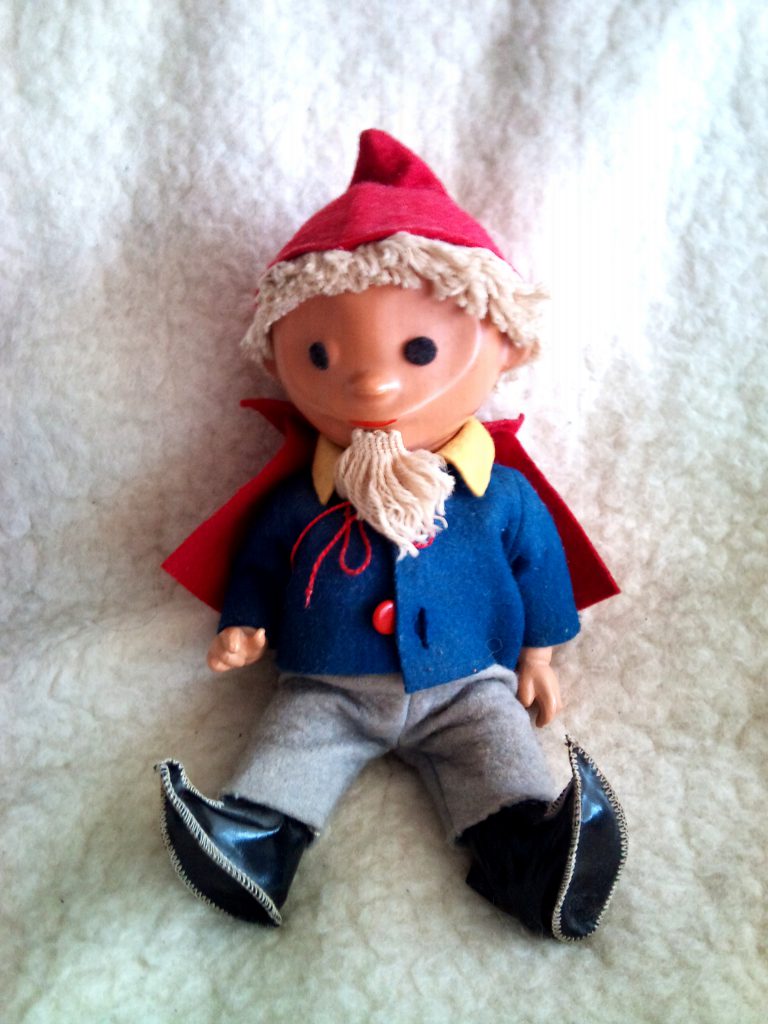 It was Saturday morning, and I woke on Seán's couch a bit cramped but well rested.
Seán is a night person and—much like you, Jules—can't really deal with the kind of energy I put out in the morning. No worries, as I pulled out my laptop and kept myself amused reading FAMM proposals and wandering around his living room looking at all of his books and toys. (Seán collects these bizarre looking bearded dolls called Sandmann, an icon of a classic German cartoon that continues today.)
At around 11 o'clock, Seán was upright, showered and dressed for the day. We went back to Sankt Oberholz for breakfast. To his annoyance and my pleasure, there were kids stumbling, falling and crawling all over the floors there. So very different from its hip evening vibe!
No time to linger, as I needed to get some shopping in. But what? I had invited both Seán and Irene over to dinner on Sunday night without a clue of what I would make. And they are both vegetarians, which ruled out any quick "meat and a potato" answer. Worse, I needed something that would compliment Irene's efforts, as she had announced that she was bringing a homemade chocolate cake. (Meg, I'll let you know whether you have competition for my gastronomic affections then.)
After quickly logging on at St. O, I found a stuffed pepper recipe from Allrecipes.com. Paired with a beet and bean salad…mmm, could be yummy. There was a nearby health food store, so we went there for the tofu. The place reminded me of a much smaller version of the Yes on Columbia Road. Light on the veggies, heavy on the naturopathic remedies. I needed to go elsewhere.
We parted at Rosenthaler Platz and I figured I'd go home first to shower. But, joy of joys, I finally realized that the Kaisers near the S-Bahn was a full grocery store.
I wandered around in there for much more than an hour, partly out of interest but mostly because I didn't have a clue as to the German names for some special items. Apple cider vinegar? "Apfel-essig." Tomato paste? "Tomatenmarken." The latter I got off a young, English-speaking blond I accosted in the aisle when I was also looking for walnuts. "Wahlnussen."
I spent the rest of the afternoon just lazying about really. Seán had bought tickets to a must-see event that he was taking me to. "Don't ask, just dress up."
I can do that!
It was a pleasant surprise. Brit, Sir Simon Rattle, conducts the Berliner Philharmoniker, and they were being joined by Czech mezzo-soprano Magdalena Kožená for a performance of Gustav Mahler's "Symphonie Number 4 in G-Dur." It was preceded by the performance of a contemporary piece by Hanspeter Kyburz, "Noesis."
Um, did I mention that I fall asleep to classical music?
Poor Seán. He certainly deserved company that better appreciated orchestral music. He had to prod me a couple of times when I nodded off and was just on the edge of snoring. Oh dear!
When I was speaking to Marianne about it this morning, she said that music is however you personally experience it. Well, in that case, here's my summary of the pieces:
The Kyburz piece sounded like the soundtrack from "Jaws" and other 70s movies of its kind It was creepy, suspenseful, sexy, bone-chilling, playful and thrilling. I could alternately imagine a lone boat on a dark body of water and a blond ingénue running down halls that never ended. (You know she'll live, but she'll go through hell first.)
Watch Jaws again, people, if you want to get what I mean.
I liked the piece. Seán? Not so much.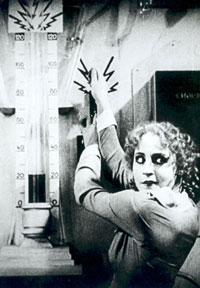 And speaking of creepy movies, the Mahler piece. No, no, it sounded nothing like the first composition. In fact, it was much more of what I expect from the symphony: beautiful, delicate, haunting. So was Ms. Kožena. But her delivery also unfortunately reminded me of the movements of the blond robot villain in Fritz Lang's silent film "Metropolis."
Eek.
Regardless of my thoughts on the matter, I must note that her singing and the entire performance by the orchestra was VERY well received by the sold-out audience. I thought Seán would break his wrists with all the clapping, and he wasn't alone. Five times, the conductor left the stage (with or without the soprano) and was called back by the thunderous applause.
I don't know if it's a quirk of Germany or of classical music appreciators, but all of the applause was delivered while sitting. No standing ovation, despite the intensity.
Um, on a completely different note, I'll end on another quirk.
In the bathroom, there's a woman who dashes between the stalls wiping the seats after each use. You tip her on the way out.
Whoa.