I have been watching the car patterns for days, anticipating turns and checking driver responses to posted signs. I wanted to be familiar with driving on the left before I actually got behind the wheel.
It wasn't until I actually had the EZ Rental car keys in hand that I realized that I was terrified. There's some foundation for this. When I was talking with Steve, the non-pierced family man of my LAX to AKL flight, he recounted a horrible story. His New Zealand brother-in-law had crested a hill in his big truck when he crashed head on into an American family that was driving on the wrong side of the road. All of them died. He continued that lots of Americans die behind the wheel in New Zealand.
I'd thank Steve for creating deep and lasting paranoia, but he probably did me a favor by forcing me to pay attention. I sit very upright. I grip the wheel tighter.
I wasn't sure where I was headed, but a snippet in the Footprints guidebook about a harbor town called Lyttelton caught my attention. It wasn't too far from Christchurch, so why not.
I was more aware of my driving for most of the trek than the surrounding countryside, but a sign about a "gondola" in Heathcote diverted me from my destination. Good thing. As the promotional material states, the Christchurch Gondola, is located on the crater rim of an extinct volcano at a 15 minute ride from Christchurch. Visitors take a gondola (or "sky tram" in Americaneze) to the top to enjoy a 360 degree panorama. There are views out to the bay and ocean on the one hand and the Southern Alps in another.
The woman behind the gondola counter asked, "One way?"
As it turns out, visitors can buy either a roundtrip ride to the cafe and visitors center at the top or ride to the top and, well, hike the hour down. Hike back to the starting point or hike into Lyttelton and take the bus back from there to your car.
How could I resist? The day was fantastic. No clouds in sight (or so I thought then), sunshine and a light breeze. I had my backpack with me, stuffed with guidebooks, Speaker for the Dead, cell phone and the works (or so I thought then). A hike?
"One way, please."
I rode up to the top with a man about my age and his two, very enthusiastic, young sons. Between my crazed snap-taking, he and I chatted about the area. He was raised in Dunedin, further south, but lives in Christchurch. It seems that the Christchurch region has seen explosive development in the last 5 years. Did he say 70,000 new residents? I think so. It has its downsides, he said, but, overall, "I feel lucky to raise a family here."
I spent a little time in the ubiquitous gift shop, and more time drifting in the exhibit room downstairs. They had a great display on the Maori folktale of the creation of the Southern Alps– with fiery gods and mountain ranges that were formerly men. And a high-end video on the formation of the crater region was fantastic. There was also a positively creepy setup of the hull of a ship, with wax figurines "talking" to each other about the harsh conditions for European travelers to the region. Thank god it was just voice over and not their mouths moving; I expected one of the figures to grab for me at any moment and to drag me, screaming, into the display like some bad rip-off of the Twilight Zone.
My overactive imagination didn't help me on the hike either.
First, let me say that there was nothing about the hike itself that was difficult. Sara, you, me and Lynne would have enjoyed this trek without a worry! Still, I was alone on the trek, without another person in sight until the very end. So, in the "how not to hike" framework, I'd like to share a sampling of my thoughts on the way down.
(1.) "What if I get eaten by a mountain lion?" (2.) "Does my cell phone work?" followed by rustling in my bag and then trying to call mom. It didn't work. (3.) "If I encounter a pack of wild dogs, should I get down on my knees like that guy did in The Truth About Cats and Dogs? Would they eat my Oreos if I offered them?" (4.) "What if I break my leg?" followed by thoughts of that movie, Into Thin Air, and me imagining myself crawling down the rest of the mountain to help. (5.) "Tammi, did you bring any water?"
Mind you, there were lovely sights all around me: the mountainside was covered by low flowering plants and scrubs rather than towering trees, so I had gorgeous, open views all the way down.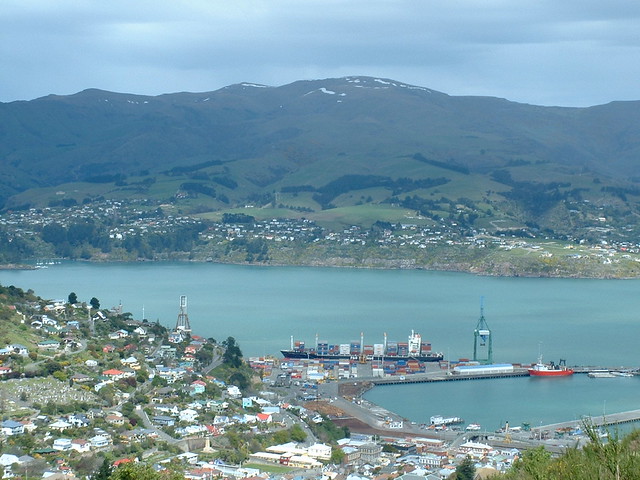 Still, I was actually talking ALOUD to myself when, near the bottom, a man emerged around the bend with a baby strapped to his back.
I laughed, "I thought I was alone here." Having no doubt heard talking before he saw me, I am sure he thought I was a loony. He paused before saying, "Another busy day in Lyttelton" and passing on.
There are never busy days in Lyttelton, I learned. The hike ends right in the backyard of a town resident. It's another 20 minute steep walk down the road into the town center.
"Town center" is more about location than offerings. Lyttelton is a charming, quiet working-harbor kind of town.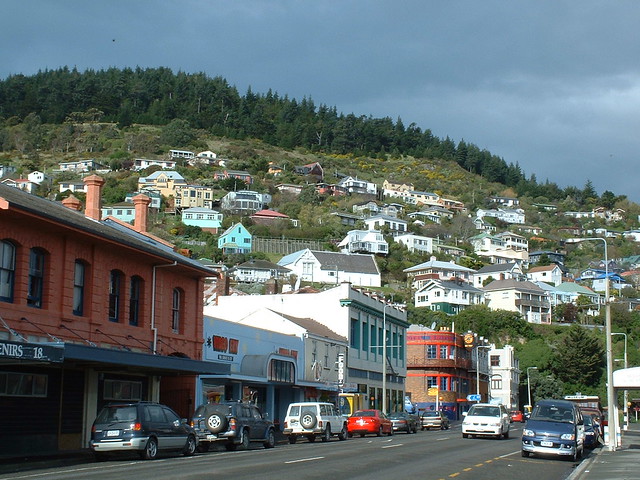 I bought a bottle of water at the local liquor store (mmm, the clerk was yummy) and then wandered down the street in search of something sweet. I had just told the owner at Satchmo's (yes, Satchmo's!) Cafe that I wasn't sure what I wanted, when it started to pour outside. So much for my cloud-free day.
I heartily recommend Satchmo's chocolate mud cake. It's served warm in a pool of chocolate liqueur with ice cream and whipped cream on the side. Exxxxxxcellent. And with the jazz playing in the background — Satchmo et al — it made sitting in from the rain in Lyttelton the best thing on earth.
I have just a few moments before I am out of internet time and must be on my way. I am leaving Christchurch today for a drive out to the west coast via Arthurs Pass. Into the mountains! But before I go, I want to share a little humor about my dinner at Lone Star. Yep, Texas-style eating in New Zealand. Well, not exactly. Menu items included the "Baked Redneck Ribs" with hoisin, orange and sesame seed sauce and the "Dixie Chicken" filets in a wine, garlic and spring onion sauce. My waiter could not figure out why I was laughing!
My steak dinner there was SUPERB, Julian, so put it on your list.