I decided to leave Christchurch for the west coast of South Island via Arthur's Pass. The guidebook had spoke of its beauty and, having enjoyed my brief hike into Lyttelton, I wanted a little more higher up in the mountains.
I hadn't counted on snow.
Snowfall started when I was about 22km outside of Springfield, a small town on the route where I had planned on stopping for coffee and the restroom. There was a sign on my approach though: Arthur's Pass was closed to all vehicles that didn't have chains on the tires. No way! But, true enough, the snow increased until the surrounding land was covered in a thick blanket.
By the time I arrived in Springfield, I was almost certain that it would be my home for the evening. Unbelievably, I could see children making a snowman in the open ground near the fuel station. I pulled over.
I decided to use my cell phone to call Mountain House, an accommodation in Arthur's Pass Village. Jan, the co-proprietor, confirmed the worst. Yes, there was thick snow in Arthur's Pass and, no, there was no getting in there until the snow let up. In fact, cars without chains were being turned back on the road.
Sigh.
The Cottage Cafe in Springfield was a godsend. There was a wood stove in the corner, comfy seating, plenty of food offerings and not a care in the world if I stayed 10 minutes or 10 hours. I stayed for 4, reading my book (back to The Wind-Up Bird Chronicle) and nibbled on scones with cream. The cafe owner would question every person entering. Which way did you come from? If from the Pass, she asked about if they had chains and what the conditions were like. There were some who thought they would drive through who had indeed been turned back. We all sat down — locals, travelers, kids and adults — for a long number of hours.
The snowfall gradually lessened around 3 in the afternoon. I gathered up my things, did a quick run to the toilet, paid my bill and headed off.
Let me summarize the rest of that day like this: Arthurs Pass will make a believer out of any atheist.
This part of the Southern Alps is magnificent, glorious, jaw-dropping, awe-inspiring, breath-taking…you name it. The road winds its way through simply spectacular landscape, and the snowfall had made it that much more incredible.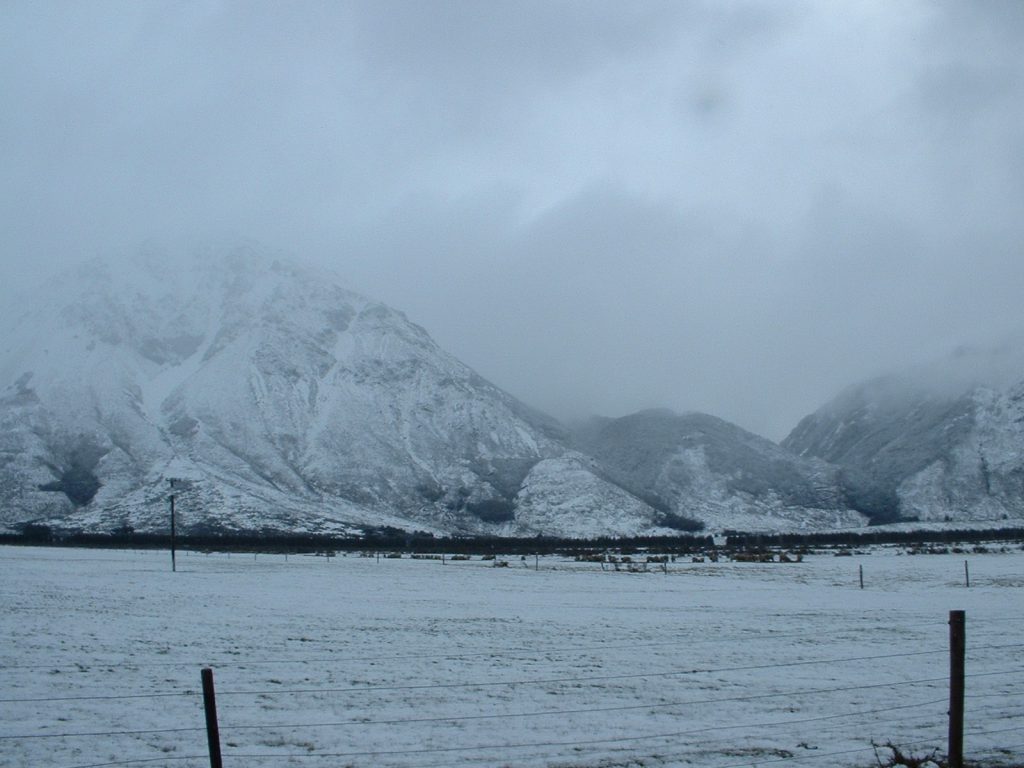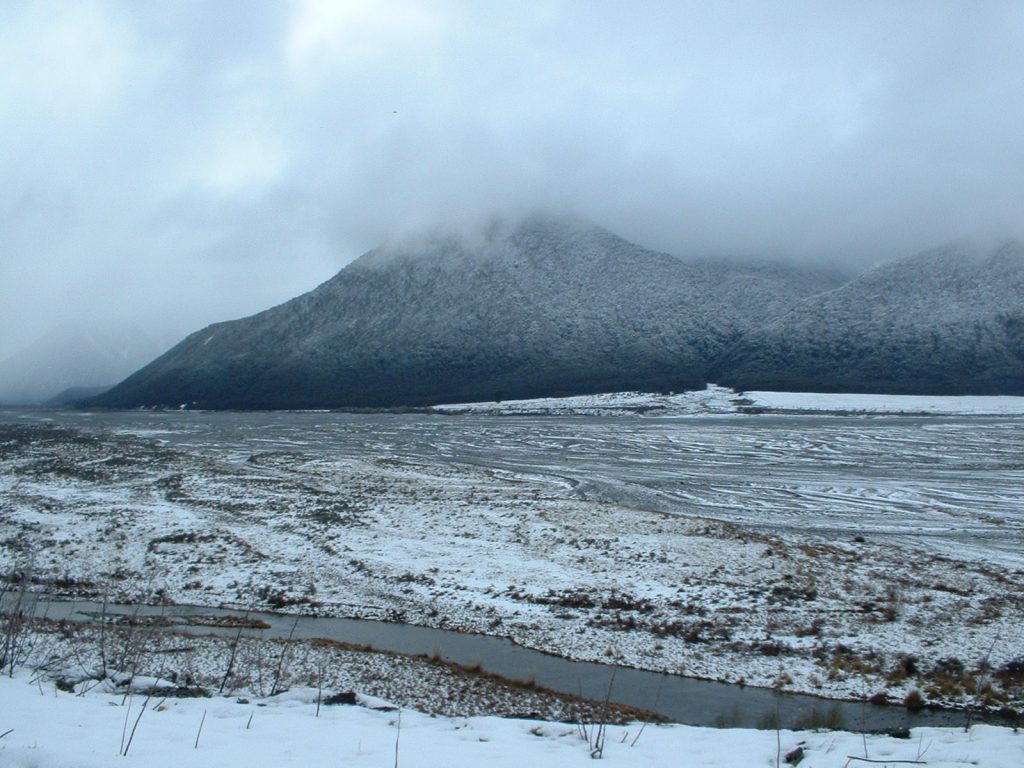 I pulled over many times to take pictures. I also laughed my head off. (I don't know if that's ever happened to any of you, but sometimes the emotion simply overwhelms me to such a degree that I simply have to make noise.)
I hope that my photos can capture some of what I experienced, but I believe only Ansel Adams could do the place justice.
But wait, there's more.
The Mountain House backpackers and cottages were outstanding. Jan was a wonderful, laughing-eyes type with a quick smile and not a worried thought in her head. She is a relocated Canadian who has been in New Zealand for more than 15 years. I can't say enough pleasant about our brief time together.
And the cottage? Cold! but incredibly charming with those same spectacular views. It had shared toilet and shower facilities, a well-equipped kitchen, and — oh yeah — a fireplace.
My cabin mates were great people. Aussies Debbie and her daughter, Lauren, were on their first international excursion. Lauren had actually won their roundtrip airfare through a contest at her retail job. Of all the people she could have taken, she chose her mom. (Insert the appropriate "ahhhh" here.) Debbie plays a mean game of Scrabble, beating the two of us handily by about 30 points.
Our other cabinmates included a fellow American, Mary-Anne. She's a nutritionist and former Blue Ridge, Virginia organic farmer. (Vicki, she knew Thornton Gap!) She was great to chat with. Although absent from the States since May, she was up-to-date on all the election craziness and did her fair share of ranting about W without a prompt from me (hey, I'm on vacation). In the U.S., she lives on an island off the coast of Maine. She's fighting to get her absentee ballot sent, which is more about small-town ineptitude than grand schemes to keep Our Dear Idiot in the White House. She took me on a short walk up to some lovely waterfalls near the visitors center. She also took me to the local chapel – also near the visitors' center and stunning in its simple, inviting beauty. You can see the waterfalls just beyond the sanctuary window.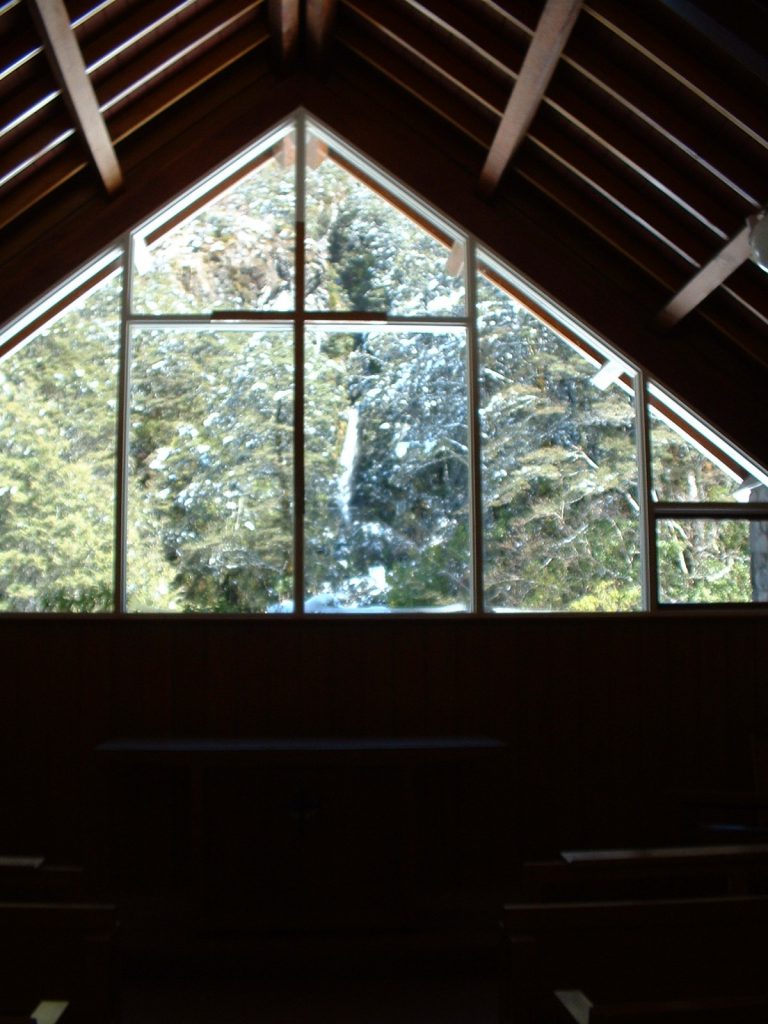 I stayed just last night and this morning in Mountain House. I struggled with the decision for almost two hours, but Jan told me that the forecast was calling for rain this evening and the chance for more snow by tomorrow morning. If I wanted to avoid being snowed in at Arthur's Pass, I had to go.
I am in Greymouth now at a place that Mary-Anne had stayed at called Global Village. The ambiance is exactly as she described it: warm, with world music in the common areas and art from all over the world decorating the walls. I have taken a moment to post this email but, shortly, I will borrow one of the free bikes and peddle my way into the town center. I am also thinking of taking in the local brewery tour.
Life is good.