I was well rested after a deep sleep. The earplugs worked perfectly, leaving just the faintest trace of a passing train whistle and the occasional shout of a drunken college student. I showered, dressed and made a brief sketch of what I wanted to see for the day– mainly Sedonna, but I gave that up after just minutes at the Downtown Diner in Flagstaff. Great staff, an ever-full cup of coffee, and the "no worries" atmosphere that simply begged for me to just hang out in town. I spent hours there, reading the local LIVE paper, studying German (yep, brought the textbooks with me), scribbling out the "wish you were here" postcards, and thinking of what I'd write in yesterday's blog.
I eventually walked back over to the hostel, dumped the study gear, blogged, and headed out for the Museum of Northern Arizona. It's just about 5 miles from downtown on a lovely winding road and nestled amongst the pine trees. The museum was quiet, as it was a weekday. I noticed that a class of high school students made their way through, forced, no doubt, by a well-meaning teacher to look at and appreciate the museum's anthropology collection. They looked like teenagers do: bored, and wishing they were elsewhere.
Too bad, because the museum had some really nice offerings. I was very taken by the weaving samples, which were surprisingly well-preserved for their age and so intricate that I wanted to dash off with one as a prize. Gotta look into a basketweaving class. (Just kidding.)
The museum had two special exhibitions. One hall was taken by the large-scale oil paintings of Joella Jean Mahoney. I'd never heard of her, and couldn't tell if she'd garnered an audience beyond Arizona's borders. But her work was very impressive, with an incredible savvy for portraying the oranges, yellows and browns that make a desert landscape. Ha, I speak like I am well-aquainted! Well, no, but I certainly appreciated her obvious awe and long-time love of the place. She made me want to take more time here to see what she had seen.
The exhibit on petroglyphs and pictographs was not as nice. Too many rock art pieces crammed into one place made my head ache. Too much! But I did like the part about the role it played in early time-keeping and the tracking of the seasons. We humans are an ingenious lot.
After a little more browsing and the prerequisite stop in the gift shop, I ditched the museum for an afternoon lunch at a local cafe about a mile from the museum. Yum, had a great turkey club with avocado. I stayed just long enough to plot my way to Walnut Canyon National Monument.
About Walnut Canyon…wow. My photographs will never do justice to what it was like looking over into that canyon. Ravens were wheeling about on the great breeze, the sun was shining but not burning and the few other visitors were in great spirits. (I overheard a couple gabbing in German! I resisted the urge to try out my few classes worth.)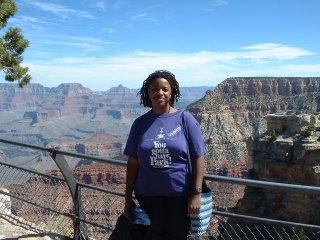 There are 200+ steps down into the Canyon along the Island Trail. I stopped some folks on the way down, asking them to snap my picture. It's the one downside of travelling alone, complete with the looks of pity or concern when the rangers, waitresses or other travelers get that you're out hoofing solo. I don't think men would get the same, but that's mere speculation.
In any case, I had a FANTASTIC few hours at the Canyon and highly recommend it. I imagine that my view of the Grand Canyon may eclipse it to some degree, so I am glad I saw it first.
The rest of the day was just as perfect. I took a self-guided tour book for a walk around Flagstaff's historic buildings. Nice! And I ate at THE BEST restaurant, this place called Racha Thai. It's new in town, and I was persuaded to go by the recommendation of the hostel staff and the posted review of a local food critic who said it was the best she'd had since leaving Bangkok. I've eaten a lot of Thai food, but I've never seen the dish I tried on any Washington menu. It was ground chicken with basil leaves, red pepper strips, cabbage and onions topped with egg and baked casserole-ish in a coconut curry sauce. Spicy and outstanding. I saved the leftovers to take with me to the Grand Canyon for lunch.
To complete the evening, I headed back to the museum to catch a one-man show that I'd seen listed in LIVE for the amazingly low price of $5 per adult. The show was Tortilla Heaven, and starred a comedian who'd had some time on Comedy Central and the brother of the actor who was supposed to perform that night. The show was well-worth the price, painful and poignant and hilarious. I was surprised by how much of it was in Spanish, and pleased to pick up a few phrases and get the gist from the staging. Kudos all around.
I'd say more but it's time to pack my bags for the Grand Canyon. Adios, tschuss and ciao.