Korey warned me that there would be days that I felt like this. Lonely. Bitter. Jaded.
I at least understand that the key to today's recovery is to escape my apartment. I've been cooped up for 40 hours in my own silence, the "benefit" of finally having DSL access at home. I need noise, other people, unfamiliar smells.
Don't get me wrong. The week has had plenty for me beyond my FAMM hours. This past Monday, I had my second dinner party. Seven of us—Jörn, Irene and her new office mates crowded around my kitchen table, drinking and playing games. All in German, mind you. I understood about a third of the evening's conversation. It was a blast.
Except for my spaghetti sauce. Oh god. Don't ask.
And I've enjoyed the other outings of the week: meeting Niels on Tuesday and, just last night, having tea and Scrabble in Martin's beautifully painted kitchen.
It's a passionate orange color. I think of teasing him about being gay. Restrain myself.
But today, Saturday, I wake late and cranky. I need to go.
I pull out my map and decide on Oranienburger Tor. James is out of the country, but he lives in that area. Lots of prostitution on the streets, he'd said. Legal, but I am not shopping.
I have breakfast at the corner restaurant and make my way to Warschauer Straße station. I'm on the train listening to my iPod on shuffle when this gem of a track by The Streets starts playing
Today I've achieved absolutely nought
In just being out of the house, I've lost out
If I wanted to end up with more now
I should've just stayed in bed, like I know how
I start grinning. Feeling better already.
The train just reaches Hackescher Markt station when I spy what I believe is a street fair…with a parade of dump trucks.
Huh?
I decide to hop off the train there. This parade is actually a massive street demonstration. I'm stunned. I unplug the iPod and tune in to the street. There are tens of thousands chanting, whistling, carrying banners and rattling noisemakers. And it's no group of dreadlocked white kids either. I'm looking at middle-aged moms and pops here. A labor march.
I watch for quite a while, just as obvious a gawker as the protest. I tune back into my music and navigate the crowd's edges. Nina Simone growls in my ear
Birds flying high you know how I feel
Sun in the sky you know how I feel
Reeds driftin' on by you know how I feel
It's a new dawn
It's a new day
It's a new life
For me
And I'm feeling good
I dash across a break in the crowd, making my way to a coffee shop to sit out the rest. The place has high ceilings, moody décor and a well-healed set that bears little resemblance to the crowd outside. I share a table with a small, young blond. She's journaling. I order a cappuccino and a croissant with Nutella.
I'm weak.
The book that I had packed with me for the day is You Are Not a Stranger Here by Adam Haslett. I open to the first story of the collection and am immediately taken by the narrator's voice.
I have shot Germans in the fields of Normandy, filed twenty-six patents, married three women, survived them all, and am currently the subject of an investigation by the IRS, which has about as much chance of collecting from me as Shylock did of getting his pound of flesh. Bureaucracies have trouble thinking clearly.
He's not thinking more clearly. He's manic depressive, and the author wrenches real humor and pain from the man's last visit with his son.
The last of the demonstrators has marched past. I forgo another story and more Nutella. (Although I manage to get a streak of the latter along the side of my nose. The subject of much of the staring I receive the rest of the day, I figure out later.)
I hoof up Oranienburger Straße, wandering in and out of shops in both deference to my curiosity and my need for warmth. It's another cold day in Berlin, of course. And gray.
Still, it's too early to head home, so I decide to return to the KaDaWe department store. (I'm craving American style bacon again.) I can't quite remember the station, so I approach a man on the platform at Zinnowitzer. He's dark-haired and handsome. His son plays at his feet.
Did I mention the Nutella on my nose?
I don't ask him if he speaks English, and he doesn't try it. In German, I ask if he knows the KaDaWe store. He does. He's patient, repeating the directions twice when I look a bit confused. Go to Friedrichstraße, walk upstairs to the S-Bahn, take that train to Zoologischer Garten.
Got it.
He's not sure I completely understand him, so at Friedrichstraße he hesitantly moves toward me on the train. But I'm already on my feet, and thank him with a wave and a smile.
I am looking at my map again, wanting to take the connecting train in the right direction. A squat, grey-haired woman passes close on my left, stops and asks—in English—may I help you?
I reply—in German—yes, I am looking for Zoologischer. I'm proud of myself…until she switches to speaking to me in German and I have to stumble through the rest of it. She's exceedingly kind though, and even compliments me on my attempts. We get on the same train, sit across from each other, and exit at the same station.
Have a good day, she says in English.
Thank you very much, I reply, also in English.
I've not quite remembered how to say "you too" auf Deutsch.
This is the first time that I've been to Zoologischer, having gotten to KaDaWe by Nollendorf Platz previously. Zoologischer is a madhouse, packed to the rafters with tourists browsing retailers that include The Body Shop and Tie Rack.
Boring.
I am excited to find a newsstand, though, and to buy an English-language newspaper, the first since my arrival. A bit of heaven, I tell you!
The first article I read is about the nationwide strike in Germany that is set to start on Monday. Well, that explains the protest march. I refrain from reading more, because I just want to get out of the station.
The street is no less packed. Crowds, crowds, crowds. And they aren't calling for workers' rights.
I stand on the corner with my map. Which way to KaDaWe? But my eye is caught by the municipal sign pointing to nearby tourist sites. That way to the sex museum? Whoa.
Beate Uhse's Erotik Museum is nestled amid a gawdy neon-lit strip of shops hawking American hot dogs and round-the-clock porn. The first floor of the museum is actually a well-stocked sex shop. I'm the only woman there, amid a bevy of men looking for porn DVDs and new equipment. I'm a stand out, and I get my fair share of glances.
Maybe it's the Nutella?
I resist the urge to slink out.
I have my ticket and I am up on the third floor starting point. The museum is dimly lit. I imagine being propositioned, and led into some corner. Unlikely, as the museum's visitors, unlike the shoppers downstairs, take great pains to avoid eye-contact.
No, no, let's focus on that large phallus over there instead.
The museum is an unfocused collection of erotic paraphernalia. There are marriage books, illustrated sex guides for new brides from 18th and 19th century Asia. There are glass snuff bottles delicately painted from the inside with frolicking maidens from 19th century Europe. There are statue-like drums with phallic-shaped sticks from Africa (I can't recall the period).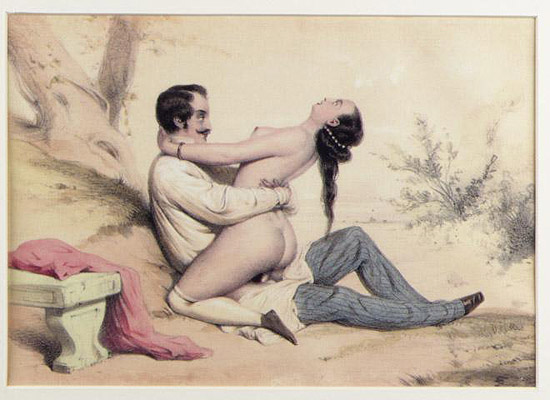 Your museum of the cock and cunt as presented in statues, paintings, illustrations, toys, carvings, jewelry and more.
On the way out, I browse the special leather room and then the main toy shop. Dreaming…
The rest of the evening is anti-climatic. 😉
I skip KaDaWe for a small bowl of goulash and a quick dash home. Irene and I are meeting for dinner, and I want to take a run around Kaisers to see if they have bacon.
They do.
I am home just long enough to put the food away, to discover and wash away the Nutella, and to turn on the television. Pimp My Ride is on. I love that show.
I convince Irene to sit for tea and the telly. She can't believe I actually can stand Pimp My Ride. And she doesn't bother to comment at all on the German version, Pimp My Whatever, where they do a complete makeover of a doghouse. It's got a draw bridge and turrets.
We make out way to the local pan-Asian restaurant—where the cooking makes me tear up, it's so spicy—and then go roaming for a simply coffeebar. We find a little nook just up the block from me.
Irene notices it immediately upon walking in.
Something's weird, she says.
And then my gaydar goes off.
Photo by Jeison Higuita on Unsplash