It's Sunday morning, and I am to meet Martin at 10 a.m. at Café Morena, that hip little coffee bar/restaurant that I had blogged about before. He lives just blocks from there, and we had talked weeks ago about their great brunch. The plan is to enjoy a meal together and to then set off for my second day of Berlin sightseeing.
I am relying on my memory, so I leave the apartment with neither the address nor Martin's cell phone number. But I am leaving early—about 45 minutes for what should be about a 20 minute walk. I figure that I will have time to sit and enjoy a cup of coffee on my own before he arrives.
Uh huh.
I am 40 minutes late. Forty.
That Martin is still there is a surprise. That he had refrained from eating until I arrived… Ouch.
I apologize profusely of course, even pulling out the map to show my Family Circus-like route and filling in details about the taxi drivers and random strangers I accosted with my question: Wissen Sie Café Morena?
That translates to "stupid lost American," in case you're guessing.
Martin is altogether gracious, but the breakfast is nonetheless strained. Some strangers are easier to talk to than others? Atop that, the waitress (or "Kellnerin") is on her own for this busy brunch… and appropriately cranky.
I hope the rest of the day offers a reprieve.
We finish up breakfast and head to Museum Island in Mitte. We are going to take the train, but I ask Martin if we can take a walking detour along Oranienstraße first. Jörn had mentioned to me that there might be a small games shop on the street but, as it is Sunday, most of the stores that Martin and I pass are closed.
We discover a beautiful Turkish spice shop though. It smells just heavenly, and all the spices and teas are artfully arranged in open wicker baskets. I buy a packet of chewing gum there that is just indefinable. I don't mean this in a good way. Take your usual piece of gum, chew it for five days and the flavor that remains is what makes this gum.
Martin explains—after I'd already popped a piece in my mouth of course—that Turkish gum is known for being flavorless. Huh? I keep waiting for the flavor explosion, to reach some juicy sweet center that will justify the effort. Nothing. Nada. Nichts.
We make our way to Alexanderplatz station and walk the remaining distance to the Pergamon Museum.
My guide book says "if you see just one museum in Berlin, make it the Pergamon." Glad to take that advice, as not even the Smithsonian can top this collection.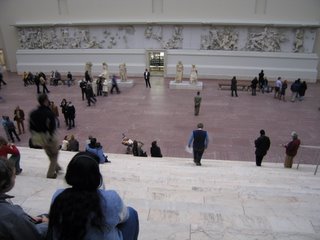 The central feature, beautifully described in my English audio tour, is the Pergamon Altar, a Greek temple with its ascending steps that has been reconstructed in the huge central hall. The reliefs that adorn the original temple hang here on the surrounding walls, each panel depicting some story of the battle between the giants and the gods.
Rather than attempt to explain the ancient history behind what I see, here's a link to the Pergamon Museum entry in Wikipedia. Note the mention of other outstanding pieces in the Pergamon, namely the Ishtar Gate of Babylonia in the Middle Eastern collection and the Mschatta palace façade of their Islamic Art collection.
Between the morning's walk and the extensive tour of the Pergamon, Martin and I are both ready to collapse. The Tadshikische Teestube that Jörn had introduced me to is just a couple of blocks away, so Martin and I make our way there for a late lunch/early dinner. We decide on the Russian tea ceremony—yummy with small cookies, candied citrus rind, a samowar of tea and, lol, a shot of vodka.
Balancing out all that sugar we add a delicious bowl of goulash. Highly recommended, and a nice finish to a cold day.