Wellington, like any urban center, is a parking nightmare. I woke at 5 a.m. yesterday and every hour thereafter, worried about moving my car from the street and into the garage. Well, at least I was ready for the day to begin.
Car safely stowed, I joined the bustle of downtown in search of breakfast. Despite the number of commuters in their cars, on the bus or on foot, there actually weren't many breakfast spots open at that hour. I eventually found another Caffe L'affare (who knew they were a chain?) and settled in for a yummy breakfast and more of Desirable Daughters.
My only "to do" item for the day was to finally meet Dan Mortimer. When I was using the internet over at Base Backpackers in Auckland, I saw a post there from Dan, who was looking for a ride south. By the time I had made up my mind to fly rather than drive to Christchurch, he had already made it to Wellington. We kept in touch via email while I bopped around the South Island, with a plan to rendezvous if I made it to Wellington before he departed. I did, so we made plans to meet at Te Papa in the afternoon.
The morning remained my own. Despite the guidebooks warning that the walk to the Botanical Gardens required oxygen and a base camp, I was eager for the walk. I had also eaten a rather generous breakfast and really *needed* the walk. Still, I took plenty of little breaks on my 40 minute hike into the hills, occasionally harassing passersby for clarification on my direction. I saw the Wellington Cable Car cruise up on its tracks and resisted the urge to scurry to its platform for a lift. I walked on.
The Botanical Gardens are certainly worth the trek. It is expansive, with two hiking trails passing through, a children's playground, a treehouse information center, an old observatory, the Cable Car Museum, and all the green-growth that you could desire. I particularly loved the succulents garden worked into a hillside terrace and the California redwood towering next to the information center. (Damn, I need to get back out to the U.S. West Coast.)
I rode the cable car back into town (charming!) and walked from the end station back to Wildlife House. They didn't have any singles available when I checked in late on Sunday night, so I was sharing a dorm with three other women. This was the first time during my trip that I have and, urgh, never again. One of the women, Victoria, was great (maybe it's the name, Vicki?), but the other women were rather cold. And one of them made little eating noises in her sleep that *just* grossed me out. Wildlife had a single opening up, so I moved into it, took a shower and headed out for lunch before meeting Dan. (Mmmm, chicken tikka masala and onion kulcha. Oh, life is swell.)
Speaking of swell, Dan Mortimer is too. (If you have found my blog, Dan, feel free to correct me on my details.) Dan and I had no trouble meeting each other in Te Papa. (There are not a lot of dreadheaded black women in Wellington.) Dan is a 32 year old, blonde Brit from Weymouth. Bored with his job training teachers in IT and getting over a heartbreak, he decided to chuck it all for the beauty of New Zealand. He applied for residency before leaving the U.K., but is in the country, now, on a six-month travel visa. He's not sure if he will make it. Although he sold all his things and did all of the goodbye parties, Dan misses his friends much more than he anticipated. Has he done the right thing? Stay tuned.
More thanks to Neil Tangri for the recommendation: Te Papa is superb! It is New Zealand's premiere museum, a well-deserved honor. The high ceilings, the layout, the coloring — what a nicely designed space. The displays of Maori artifacts, history and recent political struggle are thoroughly engrossing. There were also exhibits on wool — baa! baa! — the replication of the natural world in architecture, and contemporary art. Although I have enjoyed traveling on my own, it was nice to have Dan there to laugh and talk with about the things I was seeing.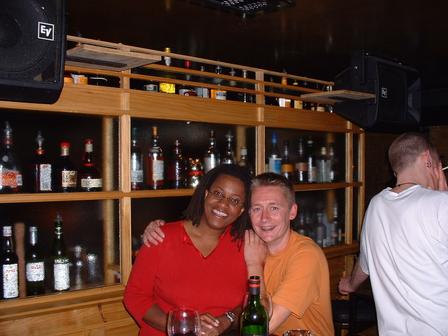 Dan and I wandered about Te Papa for four hours until they kicked us out. (Heck, we only made a dent in the place.) We walked along the waterfront, watching the canoe (kayak) polo team practice their speed in the water and chatting about the other sights that Dan has taken in during his 10-day stay in Wellington.
Dan and I managed to have enough to talk about — family and friends, aspirations, music, travel drama, and more — to carry us through dinner at a yummy (and cheap!) Malaysian restaurant and a shared bottle of wine at a very chic, and very hidden, late-night bar.
For those of you expecting to hear more, what kind of woman do you think I am? (Don't answer that.) Dan walked me back to Wildlife and, after thanks and goodbye hugs, made his way off into the rain.
It's time for me to checkout of Wildlife, to rustle up some breakfast and to eventually make my way to Lake Taupo for the evening. I leave for home tomorrow night and, thanks to the beauty of the International Date Line, will be there within four hours of my departure. Not really, but that's what the clocks will say. Ah, time travel…
Where did the time go?