Hast du schon einmal darüber nachgedacht, was du anders machen würdest, wenn du entdecken würdest, dass das nächste Jahr das letzte für dich sein würdet?
Bevor ich 25 Jahre alt wurde, war ich von der Idee beunruhigt. Vielleicht war der Grund meine dramatische Neigungen. Vielleicht war der Grund meine Arbeit. (Zu der Zeit habe ich für einem AIDS-Klinik gearbeitet.) Vielleicht war der Grund mein Gedanken von Vierteljahrhunderts. Was immer der Grund war, mit meinem 25ten feierte ich mit einer großen, tollen Party. (Those who knew me from the shared house in Mt Pleasant may even remember it. Of course, that may be vanity speaking.)
Schau mal, ich überlebte das Jahr!
Tik, tak, boom?
Obwohl ich all die kostbaren Jahren seit damals genossen habe, verschwanden die Untergangsszenario aus meiner Jugendzeit nicht. Ich bin jetzt 46 Jahre Alt und merke wie schnell die Zeit läuft!
Und natürlich habe ich Angst davor.
Mittlerweile verbringe ich die Zeit vor dem Fernseher. Und mit Filmen. Und mit Essen außer Haus. Und mit (vielleicht zu viel) Trinken. Und es gibt alle Arten von Social Media: Instagram, Pinterest, Twitter, YouTube, Facebook.
Ähem.
Zeitverschwendungsbuch?
Wie du schon weißt, ich liebe Facebook. Es ist für mich ein erstaunlicher Ort der Entdeckung. So viele teilen den Reichtum des Lebens, der Familie und Gedanken. Es ist wirklich beeindruckend.
Und, natürlich, liebe ich meine Lebensgeschichte mit dir zu teilen. (There's that vanity again!)
Aufgrund meiner Liebe zum Leben und zur Gemeinschaft, werde ich mit dir (euch allen) meine neuesten lebensfrohen Wahnsinnigkeiten zu teilen.
(I know, right? Komm endlich zur Sache, Tammi!)
Was genau, Tammi, wolltest du damit sagen?
Eines meiner Weihnachtsgeschenke wurde mir in einer schön gestalteten blauen Tasche gegeben. Siehe Bild. Ich habe die Tasche in eine kleine "Herausforderung Tasche" verwandelt. Hinein stellte ich 52 zufällige Themen. Jetzt, z.B., ziehe ich heraus: WASSER, HANDWERK und STABILITÄT
Meine Idee: Einmal pro Woche werde ich eine Herausforderung herausziehen. Wenn WASSER, dann in der nächsten Woche, muss ich mit WASSER entweder etwas Neues lernen oder etwas Ungewöhnliches tun. Seit Jahren bin ich nicht schwimmen gegangen. Wie zum Teufel wurde H2O entdeckt? In dieser Woche, gibt es eine Kunstausstellung, Vorlesung oder Seminar zum Gewässerschutz? Soll ich Wasserskisport probieren? Vielleicht stattdessen sollte ich eine Kurzgeschichte über Wasserskisport schreiben! Was ist, wenn ich eine ganze Woche, nur dem Nervenkitzel der Wiederentdeckung des Wassers in allem ihren Möglichkeiten widmen würde?
Nun, du verstehst die Idee schon.
Hier fragst du dich vielleicht, Was bringt es mir?
Einfach: vielleicht hast du auch Lust!
"Wenn 2015 mein letztes Jahr wäre" (#2015if) konnte auch ein Jahr der Entdeckung für dich sein. Vielleicht hast du bereits ein paar Ideen für deine eigenen kleinen Herausforderungen. Vielleicht hast du bereits deine eigene kleine "ich sollte tun" Tasche. Vielleicht kommt mehr dabei heraus, wenn du dieses mit Freunden zusammen tust.
Jede Woche, werde ich ein Foto mit meinem Thema der Woche posten. Mein Online-Kalender zeigt mir dass wir sind bereits in der ersten Woche des Jahres 2015 sind. Hier das erste Bild: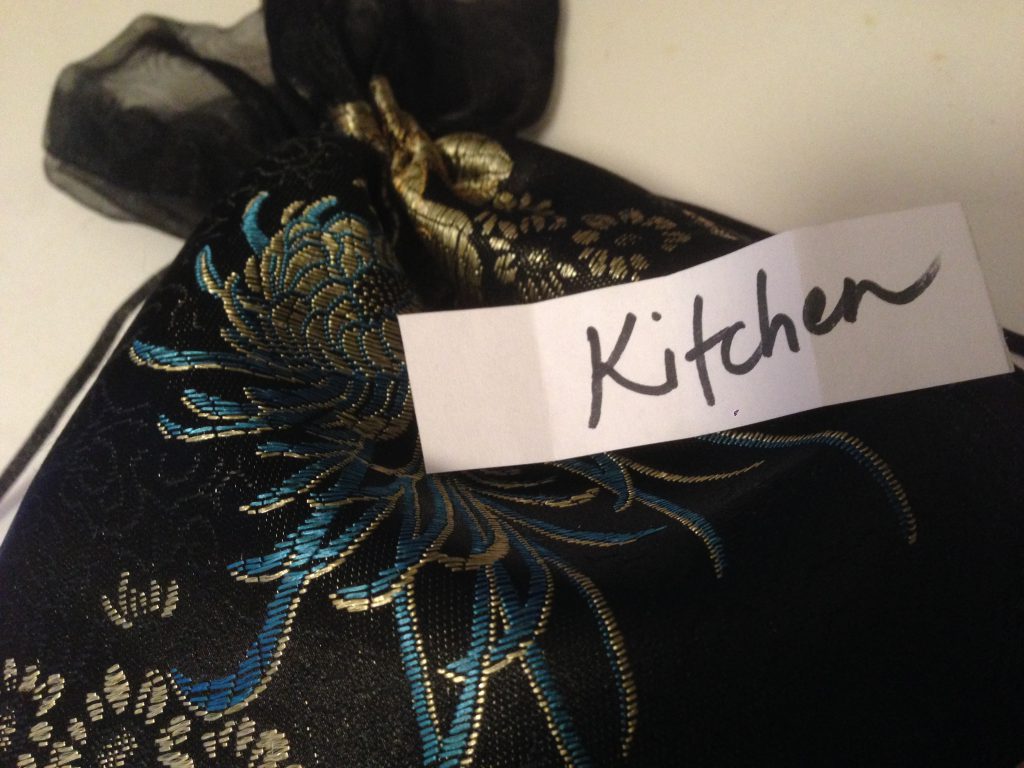 Küche!
(Uuuh, ich hatte immer vor, mich für einem Kochkurs anzumelden …)
Sonntag ist der Beginn jeder neuen Woche, deshalb werde ich an jedem Sonntag ein neues Bild (und einen Bericht!) posten. Seht mal! Das bedeutet, dass ich bloggen muss! Ausgezeichnet!)
Wenn ich Glück habe, werde ich euch 52 wundervolle Geschichten erzählen können!
Mit großer Dankbarkeit,
Tammi
(Mit vielen Dank im ersten Schritt an Google Translate und dann an Martin für das Korrigieren … und Lachen. Es könnte schlimmer sein!)