I took a chance on John with nothing more than an exchange of emails to make him real. He was my first advisor: a random contact on Lonely Planet's Thorn Tree forum when I first decided to escape to Germany.
Can anyone tell me…
I don't even remember the question.
But he was here in Germany, an English speaker (albeit Australian), and willing to show me Leipzig if I wanted.
I wanted.
So I am standing in the train station. I've already dropped off my bags at the hotel, and put in some hours at the Internet café for FAMM. But I'm back at the appointed hour, just waiting and scanning faces for someone who might be looking for me.
I'm black in a white country, so a bit obvious. And he's seen my photograph. Of him, all I have is a name. No photograph, no physical description, nothing except that he is looking for me.
Scanning, scanning…
He climbs the stair past me with his bike on his shoulder and almost passes me before he calls my name.
Young, buff and good-looking. Damn.
The rest was easy.
John is an extremely laid-back guy, just as you would expect from an Aussie. This was his second or third time in the country, but the most extended trip. He was able to land a short-term work contract in his field (engineering) through a German who had formerly worked with him in Australia. It's been 6 months, mostly in Leipzig, and while there's plenty that he's seen as someone who has lived here, there's a lot more from a specific tourist perspective.
And maybe it's because he's an engineer that he has everything mapped out for the entire weekend.
We started with a yummy dinner at an Indian restaurant not too far from the Hauptbahnhof (main train station). There's construction at many points along the walk there and back, and he explains over dinner that it's actually the project that he's working on. With these huge digs, the train tracks will be routed underneath the city that trains arriving to the station from the north will not have to go round-and-about to approach from the south anymore. It's a completely worthless project, and he says most city residents will give me an earful on it if I ask. No need, as I can see that with my own eyes.
John and I talk for hours that night, modestly consuming the first of many beers that he and I will share over the weekend, and plotting out the next day. He wanted to set out right after breakfast and we were both exhausted after hours of talking and looking over his city map. We pack it in for the evening, saying our goodbyes in the freezing cold near the hotel.
Just before he climbs onto his bike, he warns me about the brothel just a little farther down the street and the neighboring rough bar. I resist the urge to walk by.
I'm well rested and fed on the hotel buffet when John arrives to take me off on our first stop. Saturday is for being indoors, he had explained the night before, and we had plenty on our list.
Our first stop is the tremendous Völkerschlachtdenkmal (yes, that is all one word). It was first built to commemorate the defeat of Napoleon but, er, was expanded in meaning under subsequent German governments, including the Nazis.
Despite the Rough Guide's reference to it as "tasteless" and "unexciting," John and I are both taken with its epic proportions, colossal statues and the beautiful view of Leipzig from the top. The latter is only accessible by a long climb along an increasingly narrow staircase, that I half-turn to navigate.
And at the very top, I lay back against the walls to enjoy the perfect blue sky and gulp the cold winter air. John spends his time getting perfect shots of the red-roofed homes below. Far below, families skate across the frozen man-made pond.
We make ourselves woozy with a brisk clip down the spiraling staircase to the main floor. We're both not sure what the museum attendant says to us on the way out, but we find another staircase and climb into a hall with a informative display on the conception, development and political implications of such a monument. Thankfully, it's in German, French and English.
It's also refreshingly frank on the abuses of patriotism. I remark to John that no public museum in the U.S. would dare such comments now.
We're just about to leave when the chamber fills with choral music. This was done for the benefit of a tour group, but everyone comes to a stand-still in awe. The room is acoustically perfect.
We are back out in the cold and I decide to ask.
How old are you anyway?
Guess, he replies.
Good lord.
He says it's pretty typical that people are about 10 years off. He's very mature for his age, well-read and well-traveled. I'm struck by my envy. Did I sleep through that same period when I should have been stretching my legs in a foreign land?
He's eager to show me a favorite brewery and we are both pretty hungry. We gingerly make our way across the frozen pond, past the careening children in their loud, staccato German. We catch a tram and then hike along the streets.
The brewery is known for its Leipziger Gose, a local brew to which I gleefully add the optional shot of raspberry syrup. Mmm, and the BBQ ribs. Ok, ok, it's not bratwurst and sauerkraut. But, damn…
Our next stop is Thomaskirche (kirche is "church") for the afternoon service and choral performance. Bach, explains my guidebook, "served as its Kantor for the last 27 years of his life." That's right, more classical music for Tammi.
We are both full from lunch. As it turns out, we both have a tendency to nap during performances of classical pieces. So we steal some time before the concert to have a drink. John surprises me with a trip to the nearby Auerbachs Keller, which Jörn had recommended to me. Says my guidebook, it is famous for being the critical scene in Goethe's Faust.
If John and I had bothered to read that, we might have better appreciated the mural of the witch burning. As it was, we find it a little weird and focus instead on enjoying our drinks. John has a Russisches Heise Schokolade—rum in hot chocolate—that wasn't on the menu.
I don't have to beg too much to enjoy some of it.
Hm, maybe that's what puts me to sleep at the concert?
John doesn't nudge me awake as Seán did, presumably because he is nodding himself. I'm proud to say that I came fully awake just before the Lord's Prayer. I'd never heard it in German before, but the rhythm of the delivery is about the same.
Funny thing that.
We run into one of John's classmates from his last German language course and gab for a bit before heading back out. We take an unfortunate detour into a chain bakery to use the bathroom, and torture ourselves with some pretty god-awful pastry and equally gross Glühwein. Yeah, we consume it anyway. (John's mom used to give the "starving children in Africa" guilt, and he's not dissuaded by my comment that they'd hate the stuff too.)
And then it's back into the night air.
We spend the rest of the evening simply wandering the streets of Leipzig. We bounce into a video store and argue the merits of our favorite and most hated movies. (He's never seen Galaxy Quest before. I forgive him that. I confess my love for all things Banderas. He forgives me for that.) We take in a tasty meal at a nearby pan-Asian restaurant. We fall into a smoky bar for yet another drink. Too much. I've got the giggles.
And then…
…it's Sunday. And the morning is exquisitely lazy. Sunday, as he had already explained, is for the outdoors. Good thing, as nothing is open when we set out. Nothing but blue sky and our breath in the cold air.
We walk southwest to the park, with its broad promenade of trees and the frozen river. John is laughing at a small boy on the ice. He gets up, walks and bit and falls. Over and over again. A happy child, certainly, but we're both stunned at how fearless people are on the ice. We stay on the dirt path.
We break from the river to climb an icy hill with a nice view of the city. It's a favorite spot of his, he says, because of a party he came to, just off the side of the top there. The students had set up a bar, brought in a DJ and had made a dance floor of the green grass.
Nice.
Not too far from the hill, we catch a tram as south as it will take us and get off to walk to Cospundensee. I imagine that my time at the lake will be as vivid of memory as his party under the stars.
It is absolutely stunning. Cospudensee was a former coal pit that, once finished, was filled with water.
The lake is completely frozen over, and, as in the other places, families are out skating across its surface. Yes, it's beautiful. Still, we are cold, in need of a toilet and ravenous! We put aside our gawking and make for the seaside restaurant, Seeterrasse.
We manage to score a small table just near the glass. We enjoy a view of skaters on the ice, a woman busily dishing up Bratwurst and Glühwein from a large outdoor grill, and, shortly enough, the setting sun.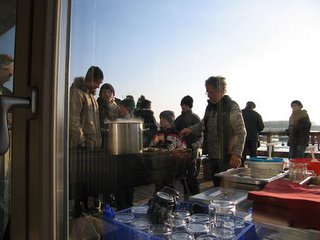 The food is simply superb. He has thick chunks of beef wrapped in bacon. Mine is slices of pork in a rosemary-infused cream sauce. When John says that he makes a dish that is much like mine, I think quickly about asking him to marry me.
LOL.
The day is over much too quickly. We are briskly walking back from the lake to get back to the Hauptbahnhof—and my luggage tucked in a locker—for the 6 o'clock train. Nope.
But no worries, as John pulls me to the station's bookstore. Still, we're exhausted, and leaning on each other to not fall over. We finally give in to sitting down, and propping up our feet. We talk of sleeping, of how nice it will be to crawl into our beds.
We're so busy talking that when I finally ask the time, we're both shocked to find it's 10 minutes to the next train's arrival. We dash for my bags and get to the tracks…only to find the train is five minutes delayed.
If it were warm, that would be a blessing. But we're shivering on the platform. It's freezing cold. He won't leave me, and although I suggest he get home and get some sleep, I'm glad to share the last minutes of his company.
And then it's a kiss on the left cheek and then the right. Goodbye. Don't forget to write.
I'm in the press of people eager to get to their seats, but I find one just inside the door. I unpack, sit down and look out the window. John's still there and smiles.
He doesn't leave the platform until the train is in motion.
I'm asleep within seconds.