Yesterday's tour of Nelson's galleries was a real pleasure. The Suter Gallery had an outstanding exhibit called "Handycrafts, at home with textiles," which had tongue-in-cheek artistic takes on the domestic arts of a 50s housewife. I *loved* the crocheted toilet seat cover! And the harried-looking hen tea cosey (knit) with her baby chick egg coseys was hilarious. The needlepoint sampler on email, laptops and the like — hell, all of the exhibit was inspired. Well done, Suter!
The World of Wearable Art Museum continued that thread (no pun intended). This is an annual show in which artists submit, er, thematic art that can be worn as garments. It's wild! Vivid colors, crazy materials, and truly inspired designs. Some of the "Bizarre Bra" competitors made me laugh out loud: wolves, boobies (the animals, "these are not boobies"), and the chandelier attachments…This year's winner, Booby Trap by Hilary & Judy Unwin of Nelson, is fantastic! (Women, I think we should make our own theme bras for Halloween this year.) Check out the other winners at www.WorldofWearableArts.com
With a little bit of time before my plans to catch Shark Tale at the cinema, I drove down to Tahunanui Beach. Even at low tide, there were a number of kids playing on the beach as their parents sat by at the cafe enjoying drinks and food. I sipped some tea and read some more of the (still bizarre) Wind-Up Bird Chronicle.
Speaking of bizarre, how about Shark Tale. No, no, it wasn't the movie itself. It was seeing a movie featuring, predominantly, Black America in a theatre where I am the only Black American. I was pretty sure that most of the cultural references to Car Wash, 70s afros, hip-hop and reggae (including jellyfish tentacles as dreadlocks) were sailing right over people's heads. And, hey, when I laughed aloud at the Krispy Kreme bag that Oscar (Will Smith) pulls out, nobody else laughed. Hilarious.
Not surprisingly, the offerings of the natural world did nothing but enhance the lovely human-made pleasures of Nelson.
Bright and early this morning, I was off with Kiwi Kayaks for a full day of kayaking and hiking in Abel Tasman National Park. (Thank you, Neil Tangri, for the recommendation.) There were just five of us on the trip: Spencer from Lake Tahoe, Judith from Germany, Avi from Israel, a young Japanese student whose name I am sad to say has already slipped from my brain (Sapa?), and our guide, Locke. After a brief introduction to the gear, the trek and each other, we took out three two-seater kayaks onto the water.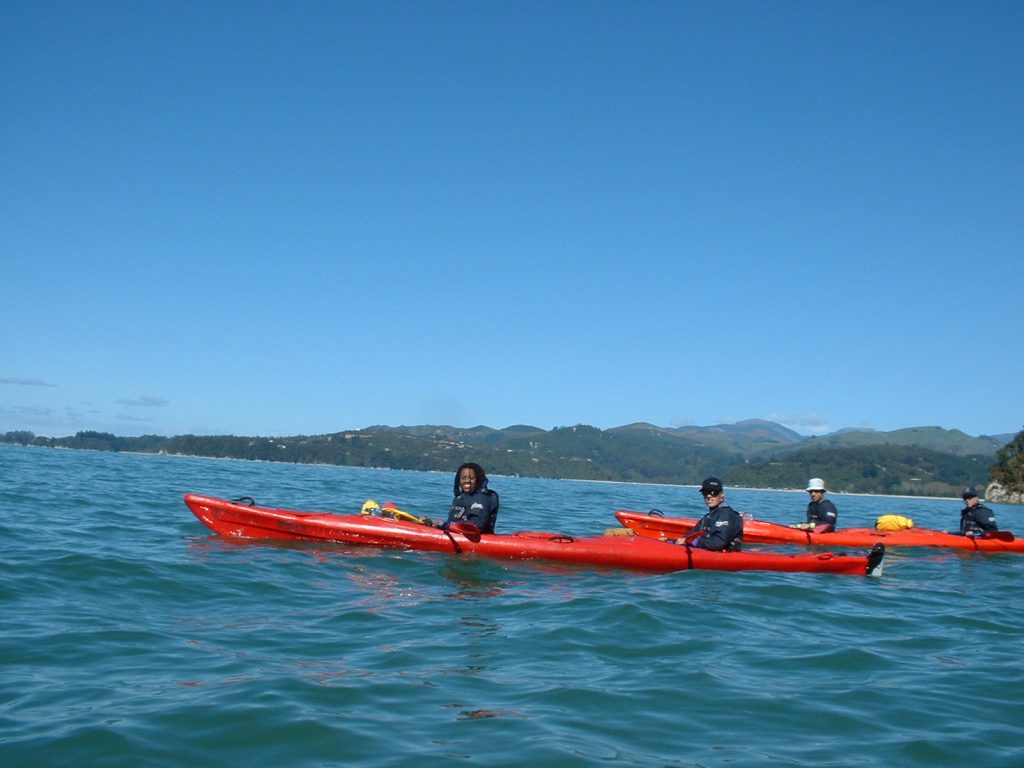 Because this is still off-season for most companies, we were blessedly and amazingly alone on the water. I saw only one other kayak the entire time we were out there. Unfrigginbelieveable.
What an amazing day. We kayaked into four different bays. Locke chatted with us about the coastal scenery, history of the specific islands we passed, wildlife, and (lol) getting better at our stroke technique. We stopped for an early breakfast of tea and biscuits (cookies, for you Americans) and later cruised to our last beach for lunch. Spencer and I then broke off from the other three who were on a tour that sent them higher up the coast, and hiked about 3 hours back to a point near our start. The hike — with views of all the beaches that we had kayaked by — was just glorious.
Spencer kept me in stitches, too, with some great banter about politics, extreme sports (he's quite the adventurist), family and the like.
Oops, just 10 minutes before I need to ditch this lovely internet shop. Let me sum up as I have before:
Life is good.